School Uniform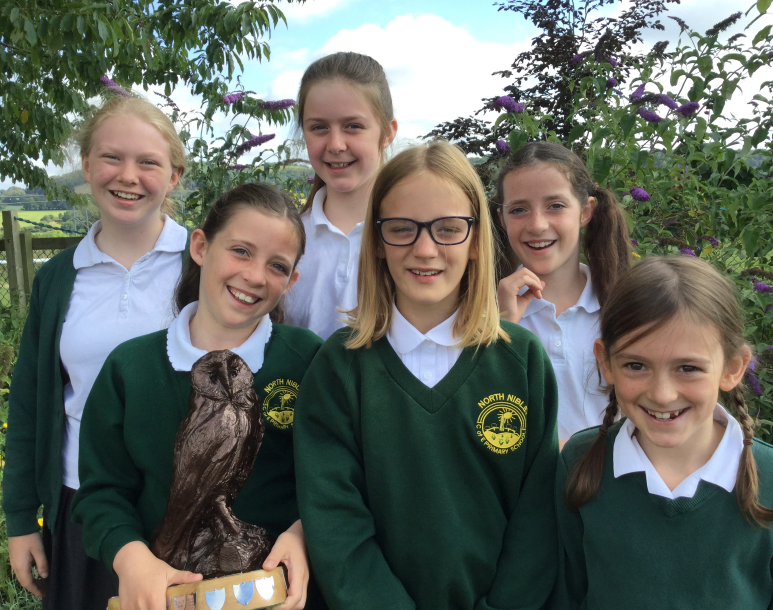 Children at North Nibley School are invited to wear the school uniform which is green and grey or black. We believe that by wearing uniform the children develop a sense of pride in, and identify with, their school. Jumpers, cardigans, fleeces, and summer dresses can be ordered online here –
It is our strong preference that the school jumper carries the school 'logo' .(Other items with the logo are optionally available). Please feel free to buy simple white polo shirts, green dresses, grey trousers, shorts and skirts from any highstreet shop. Items with the school logo can be ordered here –
Winter Uniform: Shirt/blouse: white or grey. FROM SEPTEMBER 2022 BOTTLE GREEN SHIRTS WILL BE PERMITTED. Shorts/trousers/skirts: grey or black. (Tie optional). Plain white, grey or black socks please. Shoes should always be in a sensible style (no trainers).
Our School Uniform policy may be read in full HERE.
Summer Uniform: As for winter, though patterned or checked green and white dresses may be worn. Again, shoes or sandals should always be in a sensible style.
Whenever the weather is particularly hot, we highly recommend that the children wear a hat for outdoor play.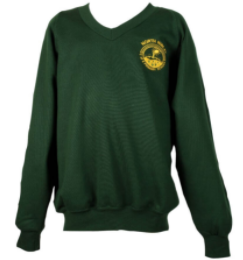 All children are given their first 'book bag' and water bottle 'for free'. Subsequent bags and bottles may be purchased from the office.
Items with the school logo can be ordered here –https://www.linelashop.co.uk/
Uniform available for re-use:
School holds an irregular supply of previously owned, but 'still good' school uniform. Mrs Kirby would be very pleased to help you locate items which will fit your child. Please ask at the school office.
PE: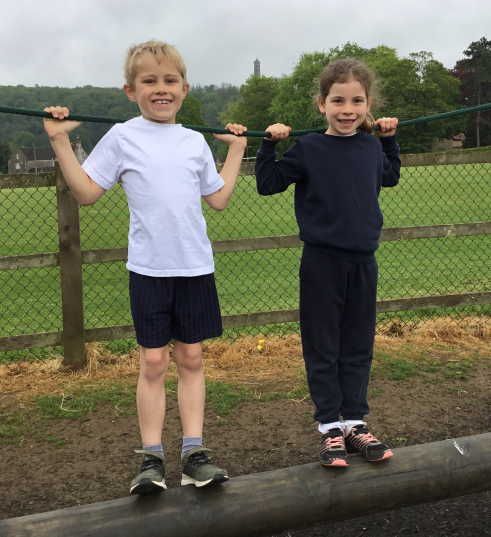 If circumstances permit it, any change of clothing which is brought into school should be kept in a suitable bag, labelled with your child's name. Dark blue shorts that allow the air to circulate around the legs, and a white, round-necked, short-sleeved T-shirt are required, though children can wear a tracksuit in colder weather for outdoor games. As the school is able to use the field for sport, parents should send suitable footwear for outside wear in games sessions. Training shoes need to be worn (trainers for outside use and football boots for junior aged pupils.) A change of socks is also needed, and longer socks for those children who wear shin pads. For indoor gym and dance, children work in bare feet. Children need to tie back their hair, and be able to remove their own ear rings. (Alternatively, earings will be taped over.) For this reason it is best to arrange for ears to be pierced at the beginning of the summer holidays if you are considering this action for your child.
Swimming:
Costume, towel and swimming hat if your child has long hair which is likely to get in the eyes. Dursley Pool requires girls to wear one-piece costumes for lessons. Dursley Pool discourages boys from wearing swimming 'shorts', trunks are preferred. Children may wear goggles but ear-rings must be removed or taped over.
Valuables/Jewellery:
Money, watches or other valuables, including portable electric devices, can be handed to the class teacher for safe keeping. We do not like children wearing jewellery in school in case it gets lost or damaged. School staff cannot accept responsibility for this. We believe the safest place for jewellery and personal possessions is at home. If ear-rings are worn they should be of the stud or sleeper variety. Unless special permission has been sought and granted, mobile phones must not be brought into school.
Art & Craft:
An old overall or old shirt. All clothes and personal belongings should be clearly marked with the child's name. A lost property box is kept at school in the entrance hall.
You can also read about uniform in the school's Prospectus and Parent Handbook, which you can find here –
Prospectus-and-parent-handbook/